Little Guy Mini Max
Never Too Small. Always a Max
The Little Guy Mini Max has a small footprint, but it's big on adventure. Taking several cues from it's bigger brother, the Mini Max features the same high quality materials, superior craftsmanship, and thoughtful details as the larger Max. The Mini Max weighs just under 2,000 lbs., making it an ideal companion for most small SUVs, and well-equipped crossovers. The Mini Max is designed to deliver maximum fun in a compact package.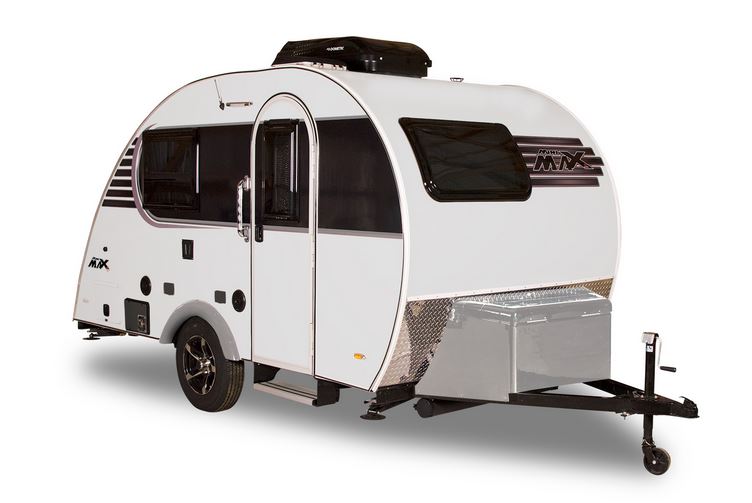 Site internet de la Little Guy Mini Max
Towing: Crossover

       

Twin Queen or Dual       Power: Dual 110/USB         Residential Style Wetbath         Sleeps 2-3          Entertainment System
Not all vehicles are tow-rated or equipped for towing trailers. Consult your owner's manual for towing capacity and warranty terms.
Hitching Up and Going Has Never Been So Easy
Our community spoke up, and we listened. The Mini Max is more accessible to more towing vehicles at a lower price, while retaining many of the same great features and benefits of it's bigger brother. It may be smaller, but it's a Max in every other sense.
Highlights:


Dry Weight: 1,993 Lbs.

Tongue Weight: 280 Lbs.

GVWR: 2,900 Lbs.

Tow With Well-Equipped Crossovers

Tow With Small or Mid-Size SUVs

Tough on the Outside
The Mini Max is just as resilient as it's bigger brother, and Liberty Outdoors backs it up with a 2 Year Limited Warranty. The exterior of the Mini features 15" premium Kenda tires, Azdel composite sidewall construction, a seamless fiberglass roof, a custom tubular steel chassis, 5 insulated dual pane windows, and a unique 2" rear receiver for additional cargo. The Mini Max delivers maximum toughness for your peace of mind.
Highlights:


15" Premium Kenda Tires

Azdel Composite Sidewalls

Custom Tubular Steel Chassis

LED Porch Lighting

2" Rear Receiver

5 Insulated Dual Pane Windows

Ultra-Durable Construction

Exterior Entertainment Center

Spacious on the Inside
The Mini Max has an interior height of 6', making it very roomy for a teardrop in this class. Most other teardrops this size struggle to get over 5'8" in height. Along with a residential style wetbath, and a dinette that converts to a queen or dual twin bed configuration, the Mini Max makes the most of every inch.
Highlights:


100% Hardwood Cabinetry

Light Maple or Dark Walnut

Stainless Steel Kitchen Sink

2 Burner Glass Top Stove

13,500 BTU Dometic A/C

16,000 BTU Dometic Furnace

LED Panel Control Center

1 Cu. Ft. Microwave

An Astonishingly Large Refrigerator
While most teardrops this size offer tiny refrigerators often under 2 cubic feet, the Mini features a
huge
5 cubic foot, tall-profile Norcold fridge. Store at least a week's worth of food in the main compartment, with a lower drawer tall enough for a gallon of milk, a 2 liter bottle of soda, or anything else your inner chef can dream up. Use the upper freezer compartment for even more food storage.
Highlights:


5 Cubic Feet of Storage Space

Euro-Style Tall Profile

Upper Freezer Compartment

Lower Drawer for Taller Food Items

Largest Refrigerator Offering in This Class

A Max-Sized Wetbath
With the exception of a slightly shorter height, the wetbath in the Mini is exactly the same as the Max. It's 26.5" deep and 41.5" wide. With the same water conserving ITC 3-function sprayer, and the same Dometic pedal flush, marine-style, tall-profile toilet. The Mini's wetbath also features a glass shower door and a floor to ceiling surround, ensuring the water used in the shower stays in the shower.
Highlights:


26.5" Deep, 41.5" Wide, 6' Tall

ITC 3-Function Shower Sprayer

Conserves Water at 2.2 Gallons Per Minute

Hinged, Residential Style Glass Shower Door

Floor to Ceiling Surround For Superior Moisture Protection

Tall Profile, Pedal Flush Dometic Toilet

Dinette converts to a full queen or dual twin size bed configuration.
Dinette & Bed
With space at premium, the dinette converts into a nifty slide out 75"x70" queen size bed, or a dual 70"x21" twin size bed configuration. The upgraded dinette table is built to marine standards, with a sturdy, hydraulic action pedestal. Simply unclasp the table base and easily push down the table to bed height. For the queen size configuration, pull out the hide-away bed slats from the drawer underneath. Then use the dinette cushions to fill out the bed. In the morning, unclasp the dinette base, and the top rises again to table height with a buttery smooth hydraulic motion. It's the easiest bed conversion you will ever see on a model in this class.
Highlights:


Upgraded Dinette Table, Built to Marine Standards

Sturdy, Rotating Dinette Table Top

Collapsible Hydraulic Action Table Pedestal

75"x70" Full Queen Size Bed Option

Dual 70"x21" Twin Size Bed Option

Five Large Insulated Dual Pane Windows
You'll say "wow" when you step in to the Mini and experience the natural light streaming in from the rear vertical stargazer window. Enjoy your morning coffee, and read up on the news in style and comfort. Our insulated dual pane windows open up so wide you might forget the windows are even there. Hidden integrated shades and screens let you enjoy the fresh air with added privacy.
Highlights:


Five Large Windows For Natural Light

Dual Paned & Insulated

Built-In, Hidden Shades & Blinds

Windows Open To a Nearly 90º Angle

Tinted for Privacy and Temperature Control

Large Sink & Pull Down Faucet
The 16"x16"x8" sink is unbelievably large compared to other models in this class. The residential style, stainless steel sink allows a camper to conveniently fill up a large coffee carafe, or a larger kitchen pot free of frustration. The built-in, detachable arm sprayer faucet gets more convenient each time you use it. Compare our sink and faucet to other models, and you'll quickly realize there really is no comparison.
Highlights:


16" Length, 16" Width, 8" Depth

Stainless Steel, Not Plastic

Detachable Sprayer Faucet Arm

Largest Sink Offering in This Class

Virtual Tour
Experience the Mini Max in 3D.
Do Some Research
Designed & Built by Liberty Outdoors in Somerset, PA
**Source et crédit :
Liberty Outdoors is a family of trailer brands consisting of Little Guy Trailers, Serro Scotty Trailers, and ParkLiner Trailers. Liberty Outdoors is headquartered in Uniontown, Ohio.
The Little Guy Mini Max is manufactured by American workers in Somerset, PA at a 100k sq. ft. facility employing about 80 people with 20-30 years of RV manufacturing experience.
_____________________________________________________________________________________
Fondateur/administrateur de www.teardrop-quebec.net &
Passionner de tout l'univers des mini-roulottes et teardrops

schoq

Membre expert






Quoi de mieux que de compléter ce post avec le modèle 2019 de la Mini Max:


*source chaîne youtube rusty78609

"rusty78609...This Travel Trailer has the off road package which adds about 200 lbs...so dry weight is approx. 2200 lbs. Total length 17'. Can be towed by almost any vehicle."

mbchoq

Admin







Sujets similaires
---
Permission de ce forum:
Vous
ne pouvez pas
répondre aux sujets dans ce forum