Derniers sujets
»
Tipoon Folding Camper
par
charlevoix418
Hier à 21:20
»
Manufacturing the Most Rugged Teardrop
par
mbchoq
Hier à 17:29
»
Menu Potlock rassemblement Teardrop-Québec.net 2018
par
schoq
Hier à 12:11
»
Slab Town Glamper
par
mbchoq
Mar 24 Avr 2018, 17:31
»
Armadillo - Boler
par
charlevoix418
Mar 24 Avr 2018, 12:00
»
Knaus Sudwind 2018
par
charlevoix418
Lun 23 Avr 2018, 21:48
»
Une fenêtre dans la toilette .
par
charlevoix418
Lun 23 Avr 2018, 21:39
»
Teardrop Camper Mattress Spa Sensations 6"
par
mbchoq
Lun 23 Avr 2018, 18:23
»
5 ROUTES DU QUÉBEC POUR UN ROAD TRIP ACTIF
par
mbchoq
Dim 22 Avr 2018, 16:23
»
Haltes du terroir en VR
par
mbchoq
Ven 20 Avr 2018, 16:08
»
En VR au Québec
par
mbchoq
Jeu 19 Avr 2018, 18:34
»
New Blue Teardrop done and for sale!
par
mbchoq
Mer 18 Avr 2018, 18:14
»
Photo de camping en tout genre avec quelques mots ...
par
Mike 66
Mer 18 Avr 2018, 01:56
»
Aide Mémoire de camping
par
schoq
Mar 17 Avr 2018, 20:50
»
Hiker trailer review
par
mbchoq
Mar 17 Avr 2018, 19:15
»
SUGATSUNE pour vos besoins en quincaillerie de qualité
par
schoq
Mar 17 Avr 2018, 11:02
»
Teardrop Trailer with Bunk Beds & more! The Summit by Colorado Teardrops walk around and review.
par
mbchoq
Lun 16 Avr 2018, 17:09
»
Vidéo récente de l'intérieur de la Airstream Nest
par
mbchoq
Dim 15 Avr 2018, 15:29
»
Retourne à ta vraie nature pendant la Semaine québécoise du camping
par
mbchoq
Dim 15 Avr 2018, 15:24
»
Construction d'une teardrop
par
cyclehorizon
Sam 14 Avr 2018, 08:07
»
FILON (FRP) et checker plate
par
charlevoix418
Ven 13 Avr 2018, 08:31
»
Installation de panneaux solaires flexibles sur une Prolite
par
pierreco
Jeu 12 Avr 2018, 13:54
»
Our Vintage teardrop trailer - Pico
par
mbchoq
Mer 11 Avr 2018, 19:02
»
Présentation
par
schoq
Mar 10 Avr 2018, 22:58
»
4 conseils pour bien manger en plein air
par
mbchoq
Mar 10 Avr 2018, 19:49
»
Apple Campers - The POD - Teardrop Campers
par
mbchoq
Lun 09 Avr 2018, 18:48
»
K-Pod Nouvelle-Zélande
par
charlevoix418
Dim 08 Avr 2018, 23:00
»
How we install aluminum skins on teardrop campers
par
mbchoq
Dim 08 Avr 2018, 15:46
»
Informations officiel 2ième mini rassemblement TDQ
par
Admin
Sam 07 Avr 2018, 16:44
»
"mini" off road teardrop trailer by Oregon Trail'R :Offroad Expo 2017
par
mbchoq
Ven 06 Avr 2018, 21:08
»
Retourne à ta vraie nature pendant la Semaine québécoise du camping
par
mbchoq
Jeu 05 Avr 2018, 20:38
»
Colorado Teardrops
par
mbchoq
Jeu 05 Avr 2018, 20:32
»
Aluminum trim and aluminum sheet.
par
P.Gaudreault
Jeu 05 Avr 2018, 15:42
»
Discussions 2ième mini rassemblement TDQ
par
schoq
Jeu 05 Avr 2018, 12:35
»
Little Guy Max a titre indicatif seulement (car trop grosse et lourde pour être considérer comme une mini-roulotte sur ce site)
par
schoq
Jeu 05 Avr 2018, 11:24
»
Chambre pour deux avec cuisinette, pour apporter svp ! | Guide du VR
par
mbchoq
Mer 04 Avr 2018, 19:28
»
Campenarti Steampunk Teardrop Trailer
par
mbchoq
Mar 03 Avr 2018, 17:41
»
Bean Trailer
par
mbchoq
Lun 02 Avr 2018, 17:57
»
Quelques observations sur le dernier Salon du VR de Québec
par
charlevoix418
Lun 02 Avr 2018, 10:44
»
Teardrop Campers handmade by K-Pod | New Zealand
par
mbchoq
Dim 01 Avr 2018, 18:13
»
The Teardrop Trailer Magazine
par
schoq
Dim 01 Avr 2018, 17:42
»
Quelques images du camping de la demi-lieue
par
schoq
Sam 31 Mar 2018, 20:27
»
2018 Travel Lite Express 14...lightweight
par
mbchoq
Sam 31 Mar 2018, 19:48
»
Only in Quebec!
par
Mike 66
Sam 31 Mar 2018, 00:57
»
Hustler-X Tour
par
mbchoq
Ven 30 Mar 2018, 17:40
»
2018 No Boundaries 10.5 by Forestriver NOBO NB10.5 Trailer at Couchs RV Nation
par
mbchoq
Jeu 29 Mar 2018, 20:03
»
2019 Little Guy Mini Max by Liberty Outdoors
par
schoq
Jeu 29 Mar 2018, 14:52
»
Little Guy Mini Max
par
schoq
Jeu 29 Mar 2018, 13:24
»
Truma Mover, Ranger teardrop avec penthouse, niveau sans fil
par
Mike 66
Mer 28 Mar 2018, 22:23
»
Plancher de T@B solidification et reconstruction
par
schoq
Mer 28 Mar 2018, 21:43
»
Une mini caravane teardrop pour voir le monde
par
mbchoq
Mer 28 Mar 2018, 18:20
»
Mini caravane La coquille
par
charlevoix418
Mar 27 Mar 2018, 23:25
»
Vintage RV Restoration
par
mbchoq
Lun 26 Mar 2018, 19:02
»
Tour some of Ken Faber's vintage trailers
par
mbchoq
Dim 25 Mar 2018, 16:07
»
The Dinky Donk Teardrop Caravan - reclaimed pallets
par
mbchoq
Dim 25 Mar 2018, 15:44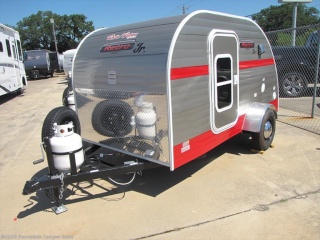 White Water RETRO TrailersRiverside RV Dealer Miller Rv Sales - The "Retro Jr." Tear Drop Trailer

schoq

Membre expert







A Tour of Riverside RVs

*Source :The Small Trailer Enthusiast


schoq

Membre expert







*source chaîne YouTube Curtis Trailer Center

Cliquez sur le lien du manufacturier ici: White Water Retro Trailer

Spécifications:
Model
JR. 509
Overall Length
13' 2"
Overall Height
TBD
Hitch Dry Weight (lbs.)
TBD
Total Dry Weight (lbs.)
920
Carrying Capacity (lbs.)
TBD
Exterior Width
TBD
Fresh Water (gal.)
17 (opt.)
Grey Water (gal.)
N/A
Black Water (gal.)
N/A
Tire Size
TBD
*source riversidervs.net

mbchoq

Admin





En installant la petite porte sous le comptoir arrière, ils se privent d'un rangement pour la glacière, monté sur glissières, comme dans bien d'autres teardrops.

charlevoix418

Membre companion






Tour complet de la Withe River Retro Jr. 2017

*Source et crédit Pat B.


J'avoue qui je haïs pas ce modèle rétro.
Mais je trouve complétement inconcevable que en 2017 le toit soit ne soit pas d'un seul bout plutôt que d'être coupé et remplis de Dicor de part et d'autres de l'air climatisé.
Bonjour les infiltrations a court et moyen terme.
Dommage !!!
We put an order in on a 2017 Riverside RV Retro, Jr 509 back in late June. I know a few teardrop builders in the industry, and as you can see on our Manufacturers Page, there are a lot of them throughout the country. And make no bones about it, they build some excellent products. However, I've had a previous working relationship with Braun's Fun Time Campers in Indianapolis, a Riverside dealer. After inspecting some at their dealership, we soon realized the Retro, Jr gave us what we wanted at an excellent price point.
Riverside offers a few color schemes to choose from, but after going back and forth on what we wanted, we realized we needed to go with the white with aqua trim with baby moon hubcaps to pay homage to our former Scotty. But on our first camping trip a couple of days after we took possession, it was like old times. At a busy Starve Hollow campground, it got its share of looks and even some pictures. And once we start taking it out more next year, I'm sure I'll be speaking of its virtues to any fellow camper interested.
Now for the nuts and bolts of the Retro, Jr. Total length is 13'9″ and dry weight fully optioned is 1,023 lbs. Those options we ordered are air conditioning, sink/stove combo, spare tire package, electric brakes, and a few other minor ones, including a USB/12 volt charging port and solar prep. One thing I did get on my own was a mountable jockey wheel at Menards for about $25 that swings up or down, depending on whether you're hauling or ready to move it by hand.
The interior bed dimensions are a nice 60″ wide and 76″ long, more than ample enough for two average sized adults. We added a 2″ memory foam mattress topper from Walmart for some extra comfort.  There are also storage cabinets on the front and rear interior walls, with the rear cabinets a little bit longer than the front, but both sides large enough to handle your typical bags for clothes you'd bring on a weekend camping trip.
The Retro, Jr is now decked out with all LED lighting, inside and out with the exception of the over the door exterior light. There are two main overhead lights as well as two reading lights underneath the front cabinet that are on either side of the USB/12 volt charging station.
The air conditioning unit is more than adequate for anyone in just about any climate. It was about the time we ordered ours in June when we were informed that Riverside had done away with the interior window-unit style air conditioner in favor of an 11,000 BTU roof mounted Dometic unit. It should be interesting next summer to see how it does in really hot weather.
Moving to the rear kitchen area. With going with the sink/stove combo option, that also meant we'd have to have a 5 gallon propane tank on the front, and in the rear hatch, we'd need the 17 gallon fresh water tank as well as water pump. But should you decide not to get the sink/stove combo, the entire rear storage area is yours, as the fresh water tank and water pump wouldn't be included.
The rear kitchen area offers ample counter space, an electrical outlet for a microwave, coffee maker, or any other electric kitchen device, as well as a decent sized cabinet for utensils and other small cookware. Also included is an LED light for those late night cooking ventures.
Now one important upgrade that we went with makes our Retro, Jr…as far as I can tell…a one of a kind (for now). And that is the interior Retro package that we asked for. And that is the wood grain interior and kitchen area finish as well as the black & white checkered flooring. This is typically something that does not come on a Retro, Jr and isn't listed as an option. I've scoured every photo and ad for these for the past 5 months and I've not seen one with this option. So a typical Retro, Jr interior would look like this:
(courtesy Curtis Trailers)
Kind of a no brainer to go with the wood grain/checker board look for about $300, don't you think?
Now back to some specs, the Retro, Jr sits on a 1500 lbs axle, supported by two 13″ wheels. The underside is enclosed by the usual black Darco material to keep out moisture. The 30 amp power cord could be a little longer to suit me, so be prepared to purchase an extension for it as it's probably about 15′ long.
Construction-wise it appears to be built pretty well. It's got an aluminum cage with a steel frame, aluminum sidewalls and a fiberglass roof. It tows extremely well and at just 1,023 lbs, can be towed by a lot of vehicles. As you can tell, this is a teardrop with doors on each side, which isn't always the case with some manufacturers. Each door has a deep tented, vertical sliding window for some good cross ventilation and are draped with color coordinated shades for privacy. The one drawback with going with the rooftop air conditioner is that it eliminates the possibility to have an A/C as well as a roof top vent fan. However, a Fantastic Fan is standard if you don't order the A/C. And one other request I wish I would've made is to have an exterior porch light over each door, as they only put the one over the curbside door.
But overall, it appears to be a solid trailer with a good build quality. And coming from me, that says something, as I was rather critical of Riverside's sloppiness on their Retros when I first saw them at the RVIA trade show in Louisville in 2011. However, in subsequent years, I commented on how they seemed to have got their act together on fit & finish for this price point, and the fact that I'm buying from them should show how much I believe in how they've improved.
Depending on where you are in the U.S., you can likely expect to see a Retro, Jr fetch an MSRP starting in the $9,000's, but your results may vary. I'll keep you all posted on how things are going on it in the near future. And if you're wondering, yes, we are a two-trailer family. We'll be keeping our Shasta for when we take family trips with the grandboys. But the Retro, Jr is for me, or me and my wife to play with. I kind of liken it to this: The Shasta is kind of like a minivan that a guy has to drive throughout the week. And the Retro, Jr is that guy's sportscar that he drives on the weekends. Hope you follow that analogy!
I've put together a walk around video of it that you can find below. Feel free to shoot me any comments or questions either below this post or on the YouTube video. As always, thanks for reading.

*Sourece et crédit The Small Trailer Enthusiast · News & info for the small trailer

schoq

Membre expert








Sujets similaires
---
Permission de ce forum:
Vous
ne pouvez pas
répondre aux sujets dans ce forum